Clear Electron Co., Ltd.
Nov. 25th 2020
Clear Electron Co., Ltd. (headquarters in Shinjuku-ku, CEO, Munekata Ono, called as Clear Electron hereafter) started reserving sale of the Japan's first wearable devices for kids, "Ai/Glasses" on November 18, Wednesday to protect their eyes from the living environment where electronic devices such as smartphones, tablets, etc. have been spread.
The 6-axis motion sensor measures the positions of eyes and the neck and the micro-CPU processes the information with Ai, then, the data is transferred to a smartphone by Bluetooth. On the designated app of your smartphone, you can check the data on your child's eye and neck positions and habits of them. It also provides you with proper advice about the right positions and habits of your kids' eyes and neck.
■ What Ai/Glasses can do.

① They protect children from bad posture or smartphone neck.

The equipped high-accuracy 6-axis sensor measures even slight posture change your child cannot notice and neck angles. When your child's posture becomes bad, the vibration alarm goes off and support him/her to keep good posture. 


② They measure the distance between TV and your eyes when it's too close.
The high-quality range sensor measures the distance between your child and TV, a computer, etc., and if it's too close, Ai/Glasses notify your child by the vibration alarm.


③ Your child can find proper brightness of light when the room is dark.
The wide-range light sensor measures and analyzes the brightness of light while your child is studying or reading, and notifies you of the proper brightness.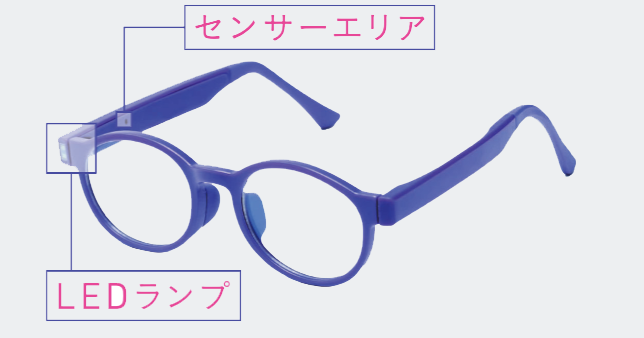 ④ The time schedule can be set up on a digital terminal.
Ai/Glasses measure how long your child watches electronic devices, such as TV, computer, etc. After the watching time limit has been set up on the app, if your child's actual watching time exceeds it, Ai/Glasses notify your child with the vibration.
⑤ You can check the daily report on the designated app.
The designated app connected with Ai/Glasses digitalizes and analyzes the habits of your child's eyes. Your child will be able to re-establish good habits to prevent nearsightedness by well understanding daily eye condition.
⑥ Ai/Glasses use blue blocking lenses.
When we use computers and tablets, we worry about the influence of blue light, don't we? Ai/Glasses standard lenses are given a blue blocking characteristic which blocks blue light to an extent the image doesn't look too dark.
■ The background in that Ai/Glasses were developed
In the revised budget bill that the cabinet approved in December 13th 2020, the expenses of distributing digital terminals to all young students and arranging an integrated high-speed large capacity communication network were included.
This helps make it possible to enhance ICT-based education to be able to certainly develop children's capabilities and abilities along with their characters. As a result, the time children's access time to electronic devices will drastically increase, however, it will make it possible to measure their access time and help them correct their posture by Ai/Glasses, which will take away the concerns GIGA Schooling Plan creates.
■ So far, Ai/Glasses have received many experts' comments of expectation!

So far, Ai/Glasses have many expert's comments of expectation to the function which catches and inform posture and visual environmental information. Those professionals working on children's nearsightedness issues and posture improvement treatment are expecting the potential that the distinctive "Ai/Glasses" function have.
Ms. Hitomi Takahashi, Honorary Professor of Momoyama Gakuin University
"An innovative product to protect children's ability for their future."

Currently, vision deterioration cases of elementary and junior-high school students have been increasing. Once your vision gets worse, it will cause not only a lot of convenience in your daily life, but also a possible decline of motivation to learn because children have difficulty in catching visual information. Parents should positively work on giving children equal learning opportunities and preventing their vision deterioration to protect their future. I really feel that "Ai/Glasses" have a lot of potential with the function to digitalize children's visual environment and prevent them from taking actions that deteriorate their vision.
Ms. Hitomi Takahashi is an Honorary Professor of Momoyama Gakuin University. For a long time, she's been working on research with the them of nearsightedness. She invented "'Who Ate It?' vision test kit" idea (published by Froebel Kan) in 2015. She was also awarded "the 9th Kids' Design Award" and 2015 Ministry of Economy, Trade, and Industry Award, and her ideas were introduced in the information TV show "The class people want to attend most in the world" (by Nippon TV). She's the author of "Children's Bad Near Vision," (published by Rural Culture Association Japan), "The Vision Test Kids can take at the age of 3" (published by Jiyuukikakusya), "Who Ate It?" (published by Jiyuukikakusya), etc.
Ms. Chihiro Honbe, Director of Honbe Clinic for Ophthalmology and Integrative Medicine
"It's an unprecedented function to protect children's eyes instead of their parents."
The cause of children's vision deterioration is not genetic factors, but living environment. If they take long time looking at close objects, watching TV or reading books in dark places, these kinds of habits affect their vision. This means that if they correct these habits, there might be the possibility of their vision recovery. Based on this idea, I think that the alert function of "Ai/Glasses" that analyzes visual environment around children and notify that they are staring at close objects too long or their eyes are too close to objects is really useful to review their bad habits.
Ms. Chihiro Honbe is the Director of Honbe Clinic for Ophthalmology and Integrative Medicine. She has been focusing on the correction of children's nearsightedness with the motto "nearsightedness is curable. She has also been sharing information on vision actively giving people warnings related to the actions or living environment which would cause nearsightedness through parent-child workshops she holds. She is the author of "Play This Ophthalmologist Invented Game for 3 minute a Day! The Game Which Trains and Improves Children's Vision." (published by PHP), etc.
■ Ai/Glasses additional information
Brand movie
This movie presents the issues caused by children's increasing digital device time using numbers so that viewers will be strongly impressed by those issues. Those twin sisters act with a lot of surprises clearly showing the before-and-after Ai/Glasses utilization situations, which expresses not only the benefits from the product, but also Clear Electron's company value which supports solutions for social issues building a healthy future for children.

Movies for the awareness of future possible
These are the Web movies that describe about possible future issues caused by the currently increasing children's usage of digital devices without implementing any countermeasures. They consist of 3 cases – deteriorating posture, deteriorating vision, and disappearance of playing outdoors – exaggerating the issues so that they will make viewers have concerns with them.
■ Ai/Glasses product information
| | |
| --- | --- |
| Device Name: | HoldOn Ai/Glasses |
| Model Number: | HoldonG1- Kids |
| Price: | ¥8900 (exclusive of tax) |
| Prescription Lens: | Not available |
| Charging Time: | Approximately 30 minutes |
| Continuous Runtime: | Max. 48 hours |
| Colors: | Navy, Purple |
| Weight: | 22 grams |
| Sensors: | 6-axis sensor (gyro sensor, acceleration sensor) |
| App requirements: | iOs 8.0 Android 5.0 or newer |
| Communication: | Bluetooth 4.0 |
| Website: | holdonaiglasses.com |